Art, to me, is a recreation. When I travel to see customers and have a spare moment, I'm magically attracted to local galleries and exhibitions. But what would many galleries and museums be without the passion and meticulous work of private collectors? This is a commitment and engagement I deeply admire.

Gerhard and Anna Lenz, internationally renowned German collectors, have focused on ZERO – an avant-garde art movement that ventured to restart art after WWII with the intention of freeing art from the dark and heavy weight of the past; to start from scratch. Since the 1960s, Mr. and Mrs. Lenz have assembled a selection of 600 works of art by 50 artists, creating the most comprehensive and most important collection of art of the period ZERO.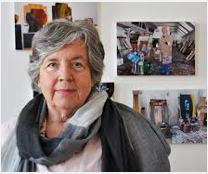 In 1971 Anna Lenz started managing the collection and keeping together the ZERO art family. She met the artists' wives, such as Christine Uecker, Marie-Madeleine Opalka, Danielle Morellet, strong women who supported their artist partners wholeheartedly. Three years ago, Anna Lenz began meeting those women again for interviews, collecting those conversations for a book. The book, entitled Strong Women for Art, got published by Hirmer Verlag, and is a piece of contemporary history and zeitgeist, depicting in a unique way the role of strong women in the life of strong men. A 2014 must-read!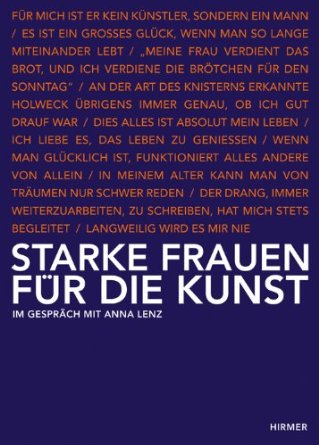 More info:
Anna Lenz: Strong Women for Art. Hirmer Verlag, 295 p., €19,90
http://www.amazon.de/Strong-Women-Art-Conversation-Anna/dp/3777421499/ref=sr_1_2?s=books-intl-de&ie=UTF8&qid=1393844098&sr=1-2
http://www.hirmerverlag.de/controller.php?cmd=detail&titelnummer=2149

Who are the companions of important contemporary artists? The art collector, Anna Lenz, sensitively pursues this question and, in twenty interviews, provides insights not only into very different women's biographies, but also into ways of living together with an artist. Anna Lenz, who, since the 1960s and together with her husband, has built up a magnificent collection of art from the ZERO period, travelled together with the photographer, Roswitha Pross, and the art historian, Ulrike Schmitt, throughout Europe to ask the partners or wives of artists about their lives. With great openness, the women, some of whom are themselves artists, tell of their upbringing, their childhood dreams, their own vocational paths, the circumstances of the times and life-plans, as well as of the often overwhelming first encounter and lives together with their men, to whose success they have contributed decisively. This kaleidoscope of biographical sketches relates not only a slice of art history, but also of contemporary history.