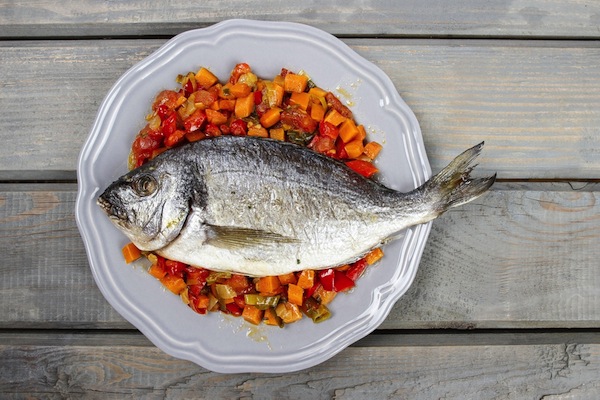 Winter is coming, Christmas is round the corner, and the feast season begins. Roast pork, goulash, venison stew – the culinary winter in Europe smells splendidly of substantial meals. And over in the USA Thanksgiving has just marked the high of the turkey season.
It's the perfect time to watch your dietary plan, and I advise my clients to eat fish once a week.
A serving of just 230 grams of fatty fish per week reduces the risk of dying from heart disease by 36 percent! And adults who eat enough fish regularly live up to two years longer. (Source: Harvard School of Public Health studies)
The best part for me: fish is incredibly simple to cook.
For my favorite fish recipe, I buy sea bream from the fishmonger, a whole fish, freshly scaled and gutted.
The method:
Wash the fish and stuff it with lemon slices and herbs, season with a little salt and pepper on the outside, sprinkle with olive oil and bake in the preheated (200°C) oven for 10-15 minutes.
To check if the fish is cooked through, gently pull the tail fin – if you have the sense that it would go off easily, the fish is done. With a side of boiled potatoes and steamed seasonal vegetables it's a quick and lavish meal and a fantastic boost for your health.
CAUTION: It's vital to know not only about the freshness and quality of the fish but also about the environmental and sustainability issues linked to it. Greenpeace has put together comprehensive guides for different countries.